Address
Newnham Court Shopping Village, Bearsted Road,
Weavering, Maidstone, ME14 5LH
View on map
Get In Touch
Existing Parents: 01622291414
New Enquiries: 01622 291410
Drop us an email
Opening Hours
Mon

8AM - 6PM

Tue

8AM - 6PM

Wed

8AM - 6PM

Thu

8AM - 6PM

Fri

8AM - 6PM
Nursery Overview
Maidstone Day Nursery - Laying the foundations for a happier, healthier nation
The UK's first and only provider of clubs and nurseries using our 3 pillars of movement, nourishment, and development to enhance overall wellbeing in children.
As an Ofsted registered nursery, we deliver a high standard of Early Years Foundation stage education. Our day nursery offers spaces for babies to pre-school children aged 5 years, on a part-time and full-time basis. Open 51 weeks per year, 8 am-6 pm.
We're rated GOOD by Ofsted, you can read the full report here.
Maidstone Downloads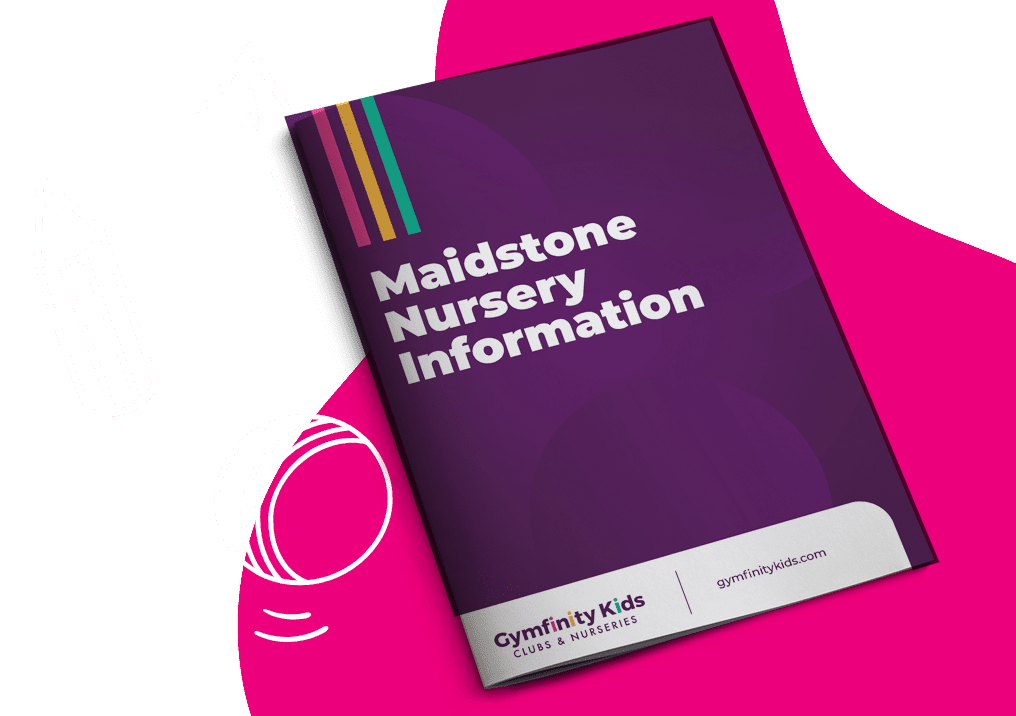 Save up to 50% off nursery fees*

We know that returning to work after having a child is a big financial decision, especially with rising household costs this year. That's what we're incredibly proud to launch our 'Parent Partnership Scheme' which enables us to share the cost of childcare for new parents for up to 6 months, to help make returning to work a little easier. You can reserve your nursery space at any time to take advantage of this trial scheme and is applicable to places of 3 or more days per week. Our helpful team will be able to talk you through the detail on your tour.
Childcare Funding
We know how demanding life (and parenting!) can be, so, at Gymfinity Kids, we think signing up to a nursery should be as easy as 123!
A one-off registration fee is the first step to becoming part of our family. This guarantees your child's nursery place and includes all the settling sessions your child (and you) may need. Plus, we even provide you with your child's nursery uniform including a short-sleeved polo shirt, jumper, backpack and water bottle.
We get your child booked in for the sessions you need. Each month you receive a monthly invoice, and your payment will be taken by direct debit automatically on the 1st of each month. Plus – It's all included in the fee! We provide everything your child will need whilst they are with us. We have food, toys, nappies, milk, and other essentials.
We can help guide you through your funding entitlement process (because we know how confusing this can be to set up!)
Part Funded
We know that covering the cost of childcare isn't always easy, so we're really pleased to say we offer the universal 15 hours of funding as well as the 30 hours of nursery funding for children aged 3years on a stretched basis. We stretch our funding as we are open all year round. Remember – the number of day-care sessions will affect the amount of funding available to claim.
If your child is entitled to 30 hours of funded childcare, you must have applied for your code and discussed your requirements with your Nursery Manager ahead of your settling in sessions. You can find out more about the funding at childcarechoices.gov.uk or call the government's Childcare Service Helpline on 0300 123 4097.
For more information on financial support and childcare schemes for children aged 2, 3 & 4 please see the Government website below:
Don't take our word for it
What our customers say...
I enrolled my twins at the start of November towards the end of the 2nd lockdown and the staff were brilliant. answered all my questions and made the whole process go smoothly. I feel safe in the knowledge that my boys are safe and enjoy their sessions in the gym facilities which are 3nd to none. Would recommend a friend

Aishatu Fatimah
19:27 05 Feb 21
Brochure Download
Please provide the following details to download our latest brochure: