General
Do you offer 30hours funding?
Yes we do! Please speak to the nursery team for further information.
What activities will my child do at nursery?
Your child will be taught through a variety of planned activities, using the Early Years Foundation Stage as a reference, that are both adult and child led covering all areas of the EYFS. However, this based on your child's next steps.
What is the Early Years Foundation?
The nursery follows the Early Years Foundation Stage using this as the underpinning curriculum to ensure all children are developing and reaching milestones that are appropriate for their ages and stages of development. The Early Years Foundation Stage (EYFS) sets standards for the learning, development, and care of your child from birth to 5 years old. The EYFS seeks to provide quality and consistency in all early years settings so that every child makes good progress. This sets a secure foundation through learning and development opportunities which are planned around the needs and interests of each individual child and are assessed and reviewed regularly.
How do I know my child will be safe and secure?
All staff have an enhanced DBS that is on the update service, receive safeguarding and first aid training, and follow nursery mandated policies and procedures to ensure children are kept safe at all times. Doors are on a secure access control system. Visitors are asked for ID and not left unescorted in the nursery.
What happens if I am delayed collecting my child?
We ask that you call the nursery to inform them you are going to be late. You will be charged a late fee if you are consistently late.
When is the nursery open?
We are open 7am-7pm all year round. Please contact the nursery for further details on session times and prices.
Are you Ofsted registered?
Yes, all early years settings have to be, however we will not receive an official Ofsted grading until we have been open at least two years. We will then be inspected within a 4-year cycle. Once inspected, the report will be available at the nursery or on the Ofsted website, the registration number will also be accessible here.
How do I arrange a visit?
You can request to book a tour from the website or email our member services team at info@gymfinitykids.com. Alternatively, you can call the nursery directly. Please remember to bring photo ID with you for your visit.
Starting Nursery
How do I find out about my child's day at nursery when I collect him/her?
Parents will be provided with daily face-to-face feedback and provided with digital updates through our iconnect system.
Will my child be required to bring anything with them when starting nursery?
Children must bring a change of uniform and are encouraged to bring any comforters they have.
What happens when my child starts nursery?
You will receive settling in sessions to help your child become familiar with the other children and staff.
Food
My child has a dietary requirement, food allergy, and/or intolerance – can you accommodate this?
All dietary needs will be catered for, but you will be required to complete an allergy form and care plan with the nursery manager.
What will my child be given to eat and drink?
Your child will be given a choice of water or milk to drink. A balanced menu can be found on the parents' notice board and this has been created by our nutritionist.
Team
What is a key person?
A key person is responsible for ensuring your child is meeting all milestones in accordance to the EYFS and that the child settles into nursery.
How do I find out more about the staff working at the nursery?
Please see the staff profile board.
What qualifications do the staff have?
This is dependent on the nursery but at least two members of our staff will be EYT (Early Years Professional Status) trained.
How many staff will there be at the nursery?
This is dependent on how many children are in. The nursery will work on the following ratios of staff to children. 2-3yrs 1:4 3-5 years 1:8
Potty training
Do you supply nappies or do parents have to supply their own?
We supply nappies and wipes. If parents wish to use a particular brand that is different to what we supply, they can bring in their own each day when brining their child to nursery.
Do you support potty training?
Yes, we will support potty training.
Sickness
My child needs medication during the day – what is your policy?
Provided that this is prescribed medication and is given to us with the prescription label attached, this is fine. You will need to complete a medication form for all medicines including Prition (allergy) and Calpol (high temperature).
What if my child is ill and cannot attend nursery?
You will still be charged for the full session.
What happens if my child is taken ill at the nursery?
We will call you to inform you when your child is unwell and Calpol will be given once a day. If the child's temperature doesn't go down, you will be required to collect them from the nursery.
Payment/Funding
What happens if I choose not to pay by direct debit?
Direct debit is our payment of preference. If you choose not to pay by this method, you must ensure that your payment is in our account by 5th of every month. Failure to do so will result in suspension of your account.
Can I still pay for adhoc sessions each month?
Yes, this payment will still be taken at the point of booking directly with the nursery team.
If my direct debit payment fails, will you reattempt the payment a second time?
No, we will contact you to collect payment over the phone and a new Direct Debit mandate will be issued if you have cancelled your direct debit. We reserve the right to charge a fee for any bounce back payments. If payment is not made by the 5th of the month your account will be suspended and your chid will not be able to attend the setting until the outstanding fee is paid. Please see the Parents agreement for further information
Can I set my direct debit up over the phone?
Unfortunately this is not possible however we can resend you the link to complete your details online.
What will happen if the direct debit date falls on a weekend or bank holiday?
 If the payment date should fall on a weekend or bank holiday the collection will take place on the next available working day.
What happens if I need to change the direct debit details? How much notice do I need to give?
You can change your Direct Debit by contacting our team who will send you new form to fill in.
Can I change the date the direct debit is taken?
The payment date is set and will be taken on 1st of each month unless this falls on a weekend or Bank Holiday when it will be taken on the first working day of the month.
How will my vouchers/student fees be taken? Will this affect my direct debit?
You need to let us know at the point of setting up your direct debit if you pay part of your invoice via childcare vouchers or tax-free childcare so that we can adjust your direct debit accordingly.
There is more than one person who pays the invoice, can 2 or more direct debit mandates be set up?
Yes, you are able to set up more than one direct debit for each child's account. Each payer will be sent a link to complete their bank details.
Who should I contact if I want to discuss my invoice?
What happens if I think my invoice is incorrect?
We do everything we can to ensure your invoice is correct. Should you think there is a discrepancy with your invoice please contact us immediately so it can be corrected in time for the direct debit collection. Please email info@gymfinitykids.com.
How long before my direct debit is taken will I receive my invoice?
You will receive your invoice a minimum of 7 days before payment is due. We ask you to check your invoice and come back to us within 3 days if there are any discrepancies. If you come back after 3days we will be unable to amend the amount in time for the payment being taken.
Will I still receive an invoice prior to the direct debit being taken?
Yes. Your invoice will be sent to you a minimum of 7 days before the direct debit is due to be taken, giving you time to check your invoice.
On what day will the direct debit be taken?
Direct debit payments will be taken on 1st of each month unless this falls on a weekend or bank holiday in which case it will be taken on the first working day of the month.
How do I set my Direct Debit up?
You will receive an email from us which has a link to the direct debit mandate. Click on the link and complete your bank details. It can take up to 10 days for your direct debit to be set up. Once all set up we will be able to take your monthly invoice amount from your account.
My child is 3 years old – how do I get the funding from the government?
The funding is applied the term after the child's third birthday. The nursery applies on your behalf. You will need to complete a funding form which will be provided by the nursery.
Do you accept childcare vouchers?
Can I book extra sessions?
Yes, please talk to the nursery for availability.
Do you offer a discount to parents placing more than one child?
At the moment we do not offer a discount based upon multiple placements.
Other
If I have a complaint, what should I do?
Talk to the nursery, further information can be found on the nursery's notice board. You are also able to complain directly to Ofsted.
Find your local
Gymfinity Kids Nursery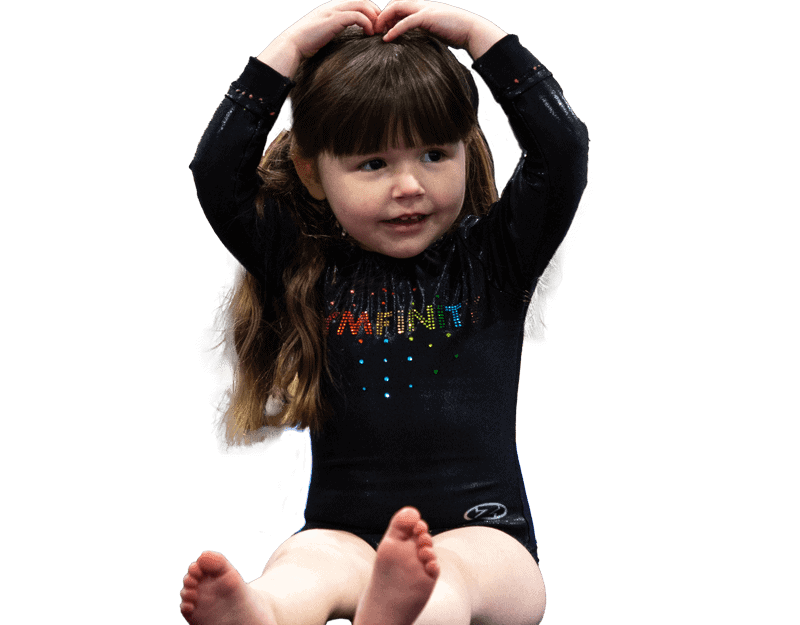 Brochure Download
Please provide the following details to download our latest brochure: