General
What ratio's do you work to?
0-2yrs 1:3
2-3yrs 1:4
3- 5yrs 1:8
What ages do you take children from-to?
6-weeks old to 1 week after the child's 5th birthday.
What activities will my child do at nursery?
The nursery has a curriculum that is delivered in accordance with early years foundation stage. Activities will be child and adult led opportunities based on your child's individual interests and learning style.
What is the Early Years Foundation Stage?
The nursery follows the Early Years Foundation Stage using this as the underpinning curriculum to ensure all children are developing and reaching milestones that are appropriate for their ages and stages of development. The Early Years Foundation Stage (EYFS) sets standards for the learning, development, and care of your child from birth to 5 years old.
The EYFS seeks to provide quality and consistency in all early years settings so that every child makes good progress. This sets a secure foundation through learning and development opportunities which are planned around the needs and interests of each individual child and are assessed and reviewed regularly.
When is the nursery open?
8am-6pm Monday to Friday. We are open 51 weeks of the year and closed on Bank Holidays as well as 2 inset days per year.
What happens if I am delayed collecting my child?
We ask that you call the nursery to inform them you are going to be late. You will be charged a late fee if you are consistently late.
How do I know my child will be safe and secure?
All staff have an enhanced DBS, receive safeguarding and first aid training, and follow nursery mandated policies and procedures to ensure children are kept safe at all times. Doors to the nursery are coded. Visitors are asked for photographic ID, signed in and not left unescorted in the nursery.
Starting Nursery
What happens when my child starts nursery?
You will receive a minimum of 2 inclusive settling in sessions to help you and your child become familiar with your key worker the other children.
Will my child be required to bring anything with them when starting nursery?
Children must bring a change of clothing and are encouraged to bring any comforters they have.
How do I find out about my child's day at nursery when I collect him/her?
Parents will be provided with daily face-to-face feedback and provided with digital updates through our iconnect/Parent Zone system. Please see our website for further information.
Food
What will my child be given to eat and drink?
Your child will be given a choice of water or milk to drink. A balanced menu can be found on the parents' notice board and this has been endorsed by Annabel Karmel.
My child has a dietary requirement, food allergy, and/or intolerance – can you accommodate this?
We will cater for allergies and intolerance needs, you will be required to complete an allergy form and care plan with the Nursery Manager.
Team
How do I find out more about the staff working at the nursery?
Please see the staff profile board.
Sickness
What happens if my child is taken ill at the nursery?
We will call you to inform you when your child is unwell. If your child has a high temperature, we will issue one dose of liquid paracetamol providing pre-authorised permissions are in place. Following that one dose, you will be required to collect your child from the nursery if their temperature doesn't go down. If your child is ill and not able to attend, you will still be charged for the full session.
My child needs medication during the day – what is your policy?
Provided that this is a UK prescribed medication written in English, from a GP, dentist or pharmacist and is given to us with the prescription label attached, this is fine. You will need to complete a medication form for all medicines. We ask parents to keep children on antibiotics at home for the first 48hrs.
For non-prescription medication, please view our Medication policy.
Payment/Funding
My child is eligible for funding, how do I apply?
The funding is applied the term after the child's second/third birthday. You will be responsible for completing the relevant local authority documentation.
Do you offer a discount to parents placing more than one child?
Yes, 10% discount for the oldest child.
Can I book extra sessions?
Yes, please talk to the nursery for availability.
Do you accept childcare vouchers?
Yes, we accept some vouchers. Please speak to your nursery directly.
Find your local
Gymfinity Kids Nursery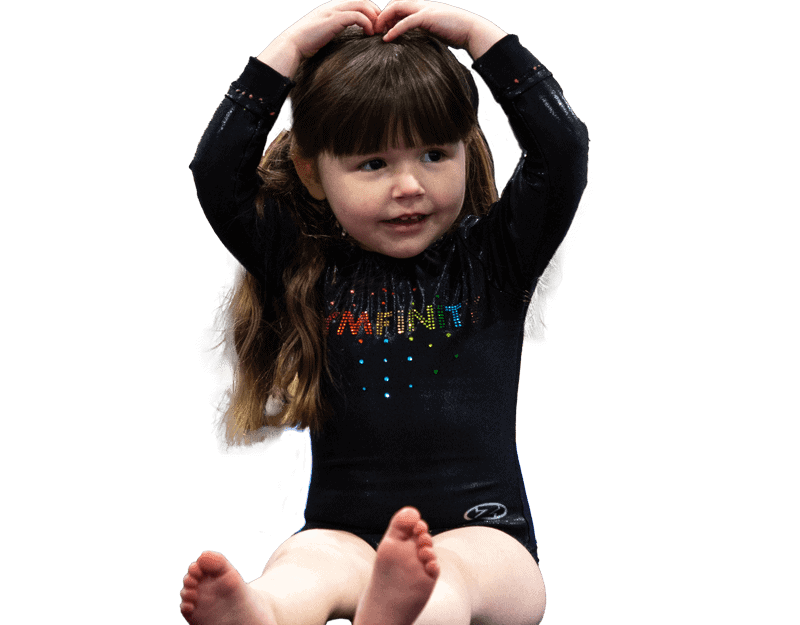 Brochure Download
Please provide the following details to download our latest brochure: